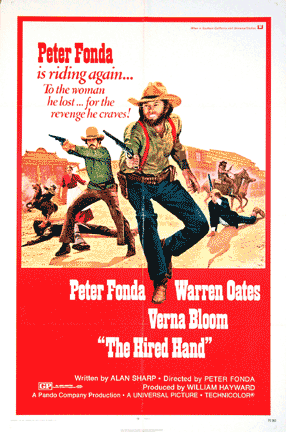 Un Western existentialiste, ça vous dirait ?
Après le succès inattendu du film de la contre-culture
EASY RIDER
(1969), Universal donna carte blanche (et Final Cut) à Peter Fonda pour son prochain film. Il en surprit plus d'un en choisissant de tourner
THE HIRED HAND
(1971), un Western au rythme très Zen et magnifiquement filmé par le caméraman Vilmos Zsigmond. Le film n'est pas unique en son genre, toutefois, car plusieurs westerns minimalistes aux thèmes existentialistes avaient déjà été tournés à cette époque, notamment par le légendaire Monte Hellman qui réalisa le très laconique
RIDE THE WHIRLWIND
en 1965 (écrit et interprété par Jack Nicholson, et figurant parmi les films favoris de Tarantino), de même que l'énigmatique
THE SHOOTING
(1967). Tous ces westerns sont devenus depuis des films cultes.
Synopsis
: Après un long séjour loin de sa femme Hannah (Verna Bloom) et de sa ferme, Harry Collins (Peter Fonda) revient chez-lui accompagné de son ami Arch (Warren Oates), mais pas pour longtemps … Il doit régler une vieille histoire.
Points forts
: Le rythme du film est lent et statique, rappelant un peu les films de Terrence Malick (
BADLANDS, THIN RED LINE
) ou le récent
THE ASSASINATION OF JESSE JAMES BY THE COWARD ROBERT FORD
(à déconseiller donc aux amateurs de sensations fortes). On pourrait presque parler ici d'un Western naturaliste, filmé comme une suite de tableaux reliés entre eux par de nombreux fondus enchaînés. Fonda a de plus souvent recours à des effets de ralentis un peu démodés qui, à la longue, pourraient facilement venir à bout du spectateur le plus patient. Reste l'intrigue, un peu mince, et la présence du toujours captivant Warren Oates, acteur culte par excellence …
Le film est accompagné d'une excellente trame sonore composée par Bruce Langhorne. Jugez-en vous même, en écoutant l'extrait ci-dessous, qui comprend le thème du début et de la fin du film (le deuxième thème débutant à 3:40 ) :
Citation
:
Hannah: - Why did he come back ?
Arch: - He just got tired of drifting around
Hannah : - He'll leave again ... It's only a matter of time ...
Arch : - Most things are, M'am
Bande-annonce du western existentialiste THE SHOOTING (1967) de Monte Hellman, dont l'ambiance (et la finale) ne sont pas sans rappeler le film GERRY (2003) de Gus Van Sant.